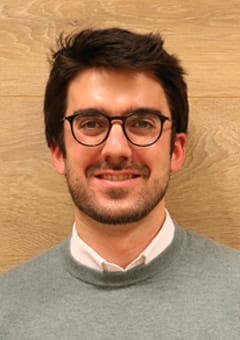 Pierre Laboué
French Version
Chercheur à l'IRIS
+33(0)1 53 27 60 63
Pierre Laboué
Pierre Laboué is a research fellow at IRIS, mainly working on the « Climate, Energy and Security » program. Specialized in energy issues, with a focus on oil and gas, Pierre manages the Observatory for the security of energy supplies and commodities on behalf of the DGRIS of the Ministry of the Armed Forces.
Before joining IRIS, Pierre Laboué worked as a Country Editor at The Oil & Gas Year (The Energy Year), a business intelligence company specialized in the energy industry. He conducted face-to-face interview with C-level executives of the oil and gas industry in various countries. He oversaw the reports « Russia 2020 » and « Gabon 2019 », and he contributed to « Qatar 2019 ».
Pierre Laboué was also a Senior Market Research Analyst at Xerfi, one of the leading institutes of economic studies in France, providing market intelligence to investors, companies and public institutions. He delivered market reports covering new technology (cybersecurity, optics-photonic, 3D printing, etc.), the chemical and electric industry as well as B2B services.
Prior to that, Pierre Laboué served as the Economic attaché at the French Embassy in Uzbekistan. He followed the gas industry and several markets of interest for French companies in the country. He contributed to the preparation of official visits, including the visit of the French Minister of Foreign Affairs in Tashkent, and the organization of the French-Uzbek Commission in Paris, under the aegis of the French Minister of External Trade.
Pierre graduated from the Institut d'Études Politiques de Rennes and holds a master's degree in Economics of Sustainable Development, Environment and Energy, jointly managed by a consortium of French engineering schools (AgroParisTech, IFP Énergies Nouvelles, Mines ParisTech, Polytechnique, Ponts ParisTech) and EHESS.