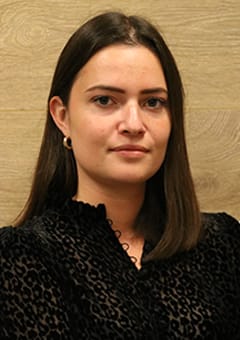 Estelle E. Brun
Estelle E. Brun is an Associate Research Fellow at the IRIS department on sport and geopolitics. She is in charge of the Geostrategic Observatory on Sport alongside the rest of the team, and is the co-founder of the project Geosport, a platform devoted to the geopolitics and geopolitical economy of sport. She is working on several projects, including those for Erasmus+ Sport which are funded by the European Union, where she researches on issues related to integrity of sport, good governance, sport diplomacy and women's issues in sport.
Prior to joining IRIS, Estelle E. Brun obtained an MSc in Comparative Politics (specialism in nationalism and ethnic politics) from the London School of Economics and Political Science (LSE) in 2019 where she wrote her master's thesis "Les Bleus as a site of (dis)integration" on football as a case of popular culture and the political mobilisation of French football players when facing racist and racialising controversies. She is interested in the far-right, racism and anti-racism in the United States and France and has used sport as a window through which to look at these contemporary issues.
She has assisted professors for various research projects while at Boston University (BU) where she studied International Relations, and at LSE. She co-wrote an article entitled "Abstention, Distrust and Twitter Politics in the 2017 French Presidential Election" with Dr Joseph Downing. In the United States, she obtained a research grant from the BU Undergraduate Research Opportunity Program in 2017 and interned for the Middle East Institute in Washington D.C. in 2018.