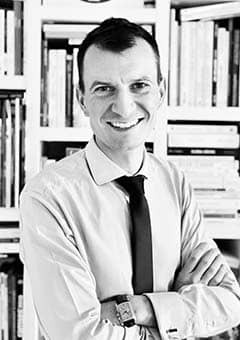 Sébastien Abis
French Version
Chercheur associé à l'IRIS, directeur du Club DEMETER
+33 (0)1 53 27 60 60
Sébastien Abis
Sébastien Abis is an Associate Research Fellow specialised in strategic issues related to the Euro-Mediterranean region, agriculture, food and grain trade at the IRIS (The French Institute for International and Strategic Affairs) since 2013. His works also focus on French power and influence in the world especially through its economic diplomacy and the role it plays in the field of global food security. Moreover, his research addresses other thematic fields such as the analysis of the dynamics of globalisation, human security and the socio-political issues of football in the Arab world.
Sébastien Abis has been working as an administrator at the General Secretariat of the CIHEAM since 2005. He participates to the technical and scientific coordination between the 13 Member States of the Organisation. He contributes to the training, research and cooperation activities that the CIHEAM deploys in the Mediterranean. He is also in charge of the CIHEAM's writings, analyses and publications. He is the director of the biennial Mediterra Report and chief editor of the Watch Letter that he has created and developed since 2007. He collaborates with the coordination of the MED-AMIN network on Mediterranean grain markets.
He is the author of more than a hundred articles and books on the above-mentioned issues. His analyses lead him to frequently participate in the debate of ideas in the media, in public conferences or general assemblies of private companies or in other scientific events organised by research centres. He is a scientific advisor for the Futuribles International Group since 2010 and member of the editorial board of its journal Futuribles since 2008. Member of the iReMMO (Institut de recherche et d'études Mediterranée et Moyen Orient), he is part of the editorial board of its journal, Confluences Méditerranée since 2006. He is also a member of the scientific committee of the Euromed-IHEDN Association since 2007. He regularly collaborates with the Demeter and Cyclope Clubs in Paris and the IEMed in Barcelona. He also regularly participates in university or specialised training courses. Sébastien Abis is an expert within the working group established by the French Ministry of Agriculture in 2015 to conduct a prospective analysis entitled "MOND'Alim 2030" with the aim of producing an Atlas of agricultural globalisation.
Sébastien Abis graduated at the University of Lille II with a Masters in History-Geography and at the IEP (Institut d'études politiques) of Lille with a DESS (Diplôme d'études supérieures et scientifiques) in European Strategic Studies led by the IRIS. He first worked with general staff of the Armed Forces of the French Ministry of Defence before joining the CALAME (Centre d'analyse et de liaison des acteurs de la Méditerranée), a think thank focusing on the business activity.