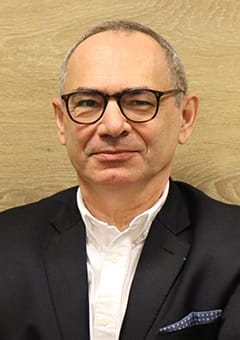 Jean-Paul Ghoneim
Jean-Paul Ghoneim is an Associate Research Fellow, specialised in Gulf States.
Beginning of professional career at RMC Middle East (MC Daoulya – France MM) as production assistant then as journalist until the post of general secretary of the editorial staff. In 1998, he joined the Ministry of Foreign Affairs where he held various positions mainly related to the Middle East area and more specifically to the Gulf.
He has a master's degree in Italian from the Sorbonne Paris IV and is a former student of the IEP. He is graduated from the University of Islamic Studies in Sarajevo.
He has published a political fiction novel in partnership with Olivier Da Lage (Maudite soit ta source – éditions Michalon) and has sat on numerous bodies such as the Joint Committee on Journalists' Employment, of which he was the Chairman. He taught press law and ethics at Celsa.