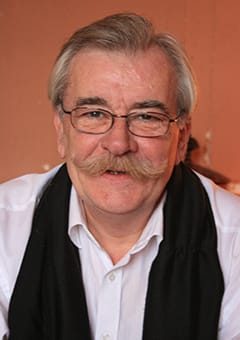 Georges Lefeuvre
French Version
Chercheur associé à l'IRIS
+33 (0)1 53 27 60 60
Georges Lefeuvre
Georges Lefeuvre is an Associate Research Fellow at IRIS. Former political attaché to the European Commission in Pakistan (2002-09), he is a specialist in the Afghanistan-Pakistan-India crisis arc. He is also an independent consultant and teaches at IRIS Sup'.
Anthropologist and linguist (University of Haute Bretagne and Associate Research Fellow at the Contemporary anthropology laboratory of Professor Jean Arlaud, University of Paris-Diderot, until 1988), Georges Lefeuvre has spent six years in the Kalash tribe, at the Afghan-Pakistani border, between 1971 and 1987. Author for the University of Haute Bretagne (DEA 1990) of the linguistic description of their language (Kalasha, a rare language – 4,000 speakers – of ancient Indo-European), he also compiled an unpublished dictionary with 6,000 entries and references to Sanskrit.
From 1987 to 1989, he was deputy director of a French NGO based in Peshawar and traveled extensively in Afghanistan. From 1989 to 1993, he directed the Alliance Française of Peshawar and developed a cultural center for French-speaking Afghan refugees (PCFA). As the cultural attaché to the French Embassy in Uzbekistan from 1993 to 1997, he created the Alliances françaises of Tashkent and Samarkand and assisted Professor Pierre Chuvin in the creation of the French Institute for Central Asian Studies (Iféac). Back in Pakistan, he was the cultural attaché at the French Embassy from 1997 to 2001, before joining the European Commission Delegation to Pakistan as a political attaché in 2002. For 8 years, he devoted himself to research and wrote numerous analyses for the European Union on the various factors of regional instability and more particularly the Pashtun border insurgencies between Pakistan and Afghanistan, the sociology of terrorist networks and the exogenous ideologies that irrigate them.
In addition to his contributions to collective works ("Le Mondial des nations" – Choiseul 2011; "L'Afghanistan, gagner le cœur et les esprits – Presses Universitaires Grenoble 2011; "L'Année stratégique" 2015 – IRIS), he has written analyses for the French Ministry of Foreign Affairs and has led numerous national and regional sessions for the IHEDN. He regularly publishes in "Le Monde, "Le Monde Diplomatique", "Le Temps", "La Croix", "Diplomatie Magazine and occasionally in National Geographic" (2001), "Géo" (2002), "Critique Internationale" (Ceri, 2002). He regularly participates in round tables and is a regular guest on television and radio.
Georges Lefeuvre is an Officer of Arts and Letters (2000).