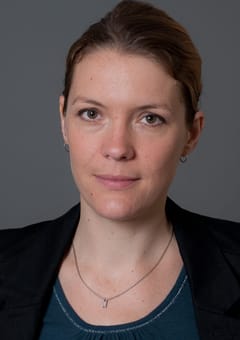 Fanny Chabrol
French Version
Intervenante extérieure
+33 (0)1 53 27 60 60
Fanny Chabrol
Her work focuses on contemporary social and political dynamics in sub-Saharan Africa, in particular issues related to health, the fight against epidemics and international cooperation.
She held the post of sub-Saharan Africa researcher at IRIS 2001 to 2003 and has carried out several missions in Africa for the International Organization of the Francophonie (Côte d'Ivoire, Congo) and in the framework of a research project funded by the National Agency for AIDS Research (ANRS) in South Africa and Botswana.
She holds a postgraduate degree in Political Science from the University Paris and a DESS in International Studies from INALCO. She defended her sociology thesis on access to medicines and the policy against AIDS in Botswana at the Institute for Interdisciplinary Research on Social Issues (EHESS) in October 2012.
She has subsequently published a book titled « Prendre soin de sa population. L'exception botswanaise face au sida » (Publisher: Maison des Sciences de l'Homme).