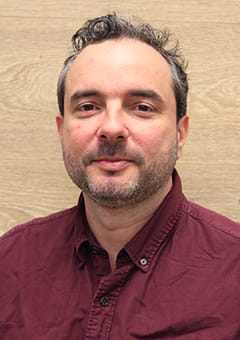 Christophe Ventura
French Version
Directeur de recherche à l'IRIS
+33 (0)1 53 27 60 60
Christophe Ventura
Christophe Ventura is a Senior Reseach Fellow at IRIS. Specialised in Latin America, he has carried out a large number of missions in this region (Argentina, Brazil, Mexico, Central America, Venezuela, Uruguay).
He is a lecturer on "Geopolitics of Latin America in a multipolar world" at IRIS Sup', and also teaches at the Institut Catholique de Paris, in the Geopolitics Masters of the FASSE.
As a journalist, he has been following political, economic, social and geopolitical developments in this region since the early 2000s and regularly publishes articles in various newspapers and magazines (Le Monde diplomatique, Diplomatie, Mémoire des luttes, etc.).
Involved in the international civil society, he has participated in conceiving and organizing the World Social Forums since their foundation in 2001 (Porto Alegre, Brazil). Christophe Ventura has therefore built an expertise of Latin American civil society (social movements, unions, NGOs, parties, academia, etc.) and institutional actors.
Christophe Ventura graduated from the École des hautes études en sciences sociales (EHESS) and has studied "History of neoliberalism in the United States and Latin American independence in the 19th century".