Online attacks on female journalists: An affront to plurality, media freedom and democracy?
The French Institute for International and Strategic Affairs (IRIS) and the Embassy of Sweden in France are pleased to invite you to the conference: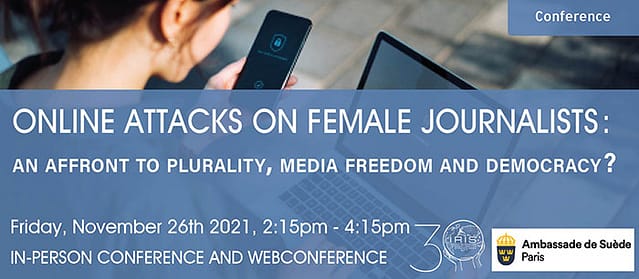 Opening Address

Håkan Åkesson – Ambassador of Sweden in France

Keynote Speakers

Teresa Ribeiro – OSCE Representative of Freedom of the Media

Henri Verdier – Ambassador for digital affairs

Audrey Azoulay – Director General UNESCO (recording video)

Panelists

Pauline Adés-Mével – Spokesperson Reporters without borders

Guy Berger, Director Strategies and policies Communication and Information, UNESCO

Carole Cadwalladr – Reporter and feature writer for The Observer

Concluding remarks

Håkan Åkesson – Ambassador of Sweden in France

Moderated by

During 2021, Sweden holds the chair of the Organization for Security and Cooperation in Europe (OSCE). The right to freedom of opinion and expression and freedom of the media are key elements of the OSCE comprehensive concept of security. The safety of female journalists is of particular concern, as they face an additional risk of being subject to gender-based violence, harassment, and threats. Today nearly two thirds of all female journalists report having been threatened or harassed online. Online harassment and abuse to targeted journalists not only undermines their right to freedom of expression but has broader ramifications for access to a diversity of views and information in society.
This conference aims to explore the situation for female journalists' safety in the OSCE region and discuss measures, best practices as well as provide guidance for all relevant stakeholders in addressing online harassment and abuse against female journalists.