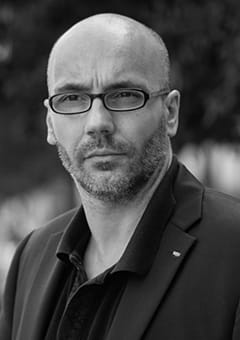 Romuald Sciora
French Version
Chercheur associé à l'IRIS
+33 (0)1 53 27 60 60
Romuald Sciora
Romuald Sciora is an Associate Research Fellow at the IRIS. Author, essayist, columnist and documentary filmmaker born in Paris in 1970, he is a recognized specialist in the United Nations and in American foreign and domestic policy.
As a writer, he has published, among many others, four books on the UN and an essay on the UN General Assembly. As a filmmaker, he has produced a dozen political documentaries, including a TV series devoted to the United Nations, broadcast in more than 20 countries.
He is the only person to have had the opportunity to meet and interview several times all of the UN Secretaries-General, from Kurt Waldheim to Ban Ki-Moon.
He has lived in the United State for almost twenty years. From 2011 to 2016, he served as President of the French-American Global Forum, a not-for-profit organization based in Washington, D.C. On this occasion, he co-organized and led a large number of conferences and seminars with the European Union, research centers such as CSIS and the Brookings Institution, The New York Times and magazines such as The Atlantic, Newsweek and Foreign Affairs. Till 2019, he was the host of Le monde diplomatique Debates, an international program of conferences sponsored by the famous French monthly Le monde diplomatique.
He works regularly with universities such as New York University and American University in Washington and as a consultant for different institutions and NGOs. He also appears regularly in the media, whether in North and South America, Europe, Russia or the Middle East, to comment on international news.
His latest books, Who Wants to Kill the U.N.?, co-written with Anne-Cécile Robert, Poor John – America in the Time of COVID-19 and Valiant Woman, were published in 2018 , 2020 and 2021. In the meantime, the complete collection of his interviews with UN Secretaries-General was published in a special issue of The International Politics Reviews dedicated to his work.
Romuald Sciora has been awarded the insignia of Chevalier de l'Ordre des Arts et des Lettres – Knight of the Order of Arts and Letters – and of Officer in the National Order of the Cedar.