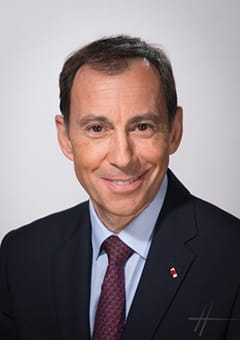 Philippe Steininger
French Version
Chercheur associé à l'IRIS
+33 (0)1 53 27 60 60
Philippe Steininger
His main areas of expertise are defence policy and aerospace issues.
He joined the French air force in 1980. He graduated in 1983 as an engineer in aeronautics and received his wings of fighter pilot in 1984.
He successively served at the 13th Fighter Wing, as an exchange pilot in the German air force with the 74th Fighter Wing in Neuburg, at the 11th Fighter Wing and as commanding officer of a Mirage 2000 squadron in Cambrai. As a pilot and detachment commander, he participated in many operations in Africa, the Middle East and the Balkans.
In 1999, he was appointed to the Joint Staff in Paris as the United-States and Canada Desk Officer before joining in 2002 the Armed Forces General Inspectorate.
General Steininger was commanding officer of Cazaux Air Base from 2004 to 2007, and later, head of the NATO/EU Branch of the Delegation for Strategic Affairs, French Ministry of Defence, between 2007 and 2009. From 2009 to 2013, he served in Paris in the cabinet of the Secretary general for defence and national security, being charged with preparing the high-level defence committees.
Back in the air force, General Steininger served as deputy commanding officer, then commanding officer, of the Strategic Air Command.
In 2015, General Steininger was appointed Deputy secretary general for defence and national security and occupied that position till 2018.
General Philippe Steininger is a graduate of the French Joint staff college and attended the 100th Senior course of the Nato Defence College in Rome. He wrote numerous articles on airpower and nuclear deterrence and translated into French John Warden's "The Air Campaign" published in France in 1998. Since 2003, he has been giving lectures on airpower at the Joint Staff College in Paris.