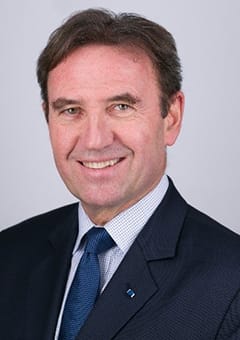 Patrick Chevallereau
Patrick Chevallereau is an associate research fellow at the French Institute for International and Strategic Affairs (IRIS).
Patrick Chevallereau is an international consultant specializing in defence and security issues. His experience includes two decades of political-military work across diverse portfolios, in particular the transatlantic relationship, Franco-British cooperation, European and international security institutions, as well as a diverse scope of maritime issues worldwide. He concurrently serves as a Distinguished Fellow at the UK-based Royal United Services Institute (RUSI), teaches at the Clermont-Auvergne University, and provides regular analysis in both the French and British press.
Formerly a naval aviation pilot, he most recently served with the rank of Vice Admiral as the defence Attaché of France to the United Kingdom, charged with managing the bilateral defence relationship through the context of Brexit. Recent positions as a general officer included serving in the French defence joint staff as Head of the Euro-Atlantic division, and at the NATO strategic command in Norfolk (USA). He held the inter-ministerial position of Deputy Secretary General for the Sea, responsible for central-level oversight under the Prime Minister of State's Action at Sea. He left the active duty in 2018 after 38 years of active service.